We are Technology Solution Consultants
Our clients cannot achieve their business goals with off-the-shelf software. We will help you to understand what, who, why, how and when a custom software solution can help with your organization's growth.
Increase Efficiency, Reduce Costs, Drive Revenue. GSI's Consultants lead our clients through the organization of complex business workflows, requirements development and the architecture of scalable technology solutions that can increase operational efficiency, reduce operational costs and/or drive new revenue.
Total Cost of Ownership (TCO). We perform a full TCO analysis with all of our clients that spans the full SDLC including support and maintenance. This makes the decision to take control of your business processes with a custom technology solution over any period of time, very easy!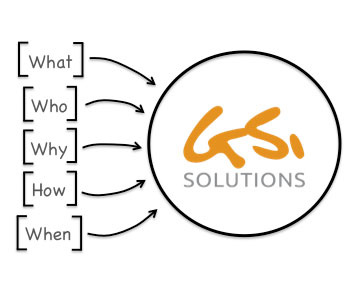 GSI is technology agnostic. The breadth of our technology expertise means that our Consultants can focus on your business processes and needs without any technology solution bias.
We will work with you to conceptualize, design, build and manage a business solution that meets with your tactical or strategic product and technology roadmap. While this list is not comprehensive, we present some of our clients' most common technology needs here.
Development Tools
Databases
Hosting & Infrastructure

Apple xcode
Code Igniter
MS .NET
PHP
Symfony
Zend

AWS Aurora
MongoDB
MS SQL Server
MySQL
Neo4J
Oracle

Cloud Hosting/Architecture
Amazon AWS
Microsoft Azure
Technologies Typically Required by our Clients
Project Management Methodology
GSI follows a simple project kick-off and approval process in order to ensure that we get delivery right the first time and every time.
Our clients approve a work back schedule that includes detailed checkpoint milestones and are kept in the loop throughout the production process via the GSI Project Management Portal.
Led by GSI partners and dedicated Consultant
Project Brief is developed: general business and technology requirements documented
GSI Project Management Portal launched
Project requirements development: business + systems requirements documentation
Finalized WBS, BRD and SRD published
Status updates and previews of work in progress are provided regularly
Prototypes developed and iterative UAT sessions conducted
All work products are subject to rigorous internal QA process
Final work product is submitted for review and feedback
Final content authoring (or migration) occurs towards the end of this stage
Final work product is submitted for review and feedback
The planning and execution of user acceptance testing will be just as rigorous as during development and QA giving you the opportunity to review and tweak the entire application until you are comfortable that it is ready for launch
Launch plan is established and submitted for approval
Code is migrated to production and launched
Work product is monitored and stabilized if necessary
GSI provides 24x7x365 systems monitoring and support
Dedicated support resources
Dedicated developer resources
Customized service level agreement (SLA)
Short-term and/or long-term
Facilitate transition to internal client teams (if necessary)
GSI Customers, What They're Saying.
GSI has been a valuable Kijiji partner since 2011. They are uniquely capable of working across our business, product and technical teams, which has driven greater focus on our strategic priorities and success in the product planning process.
GSI consultants are professionals! They provide top-tier solution expertise and project management, but most importantly, they instil confidence through their ability to deliver.
GSI is an extremely important integration partner for Dream. Their consultants' technical expertise is supported by their business savvy, which has been key to expanding our reach.
Launch the consulting career
that you've always wanted!