IMMEDIATE CHALLENGE
Our client is the owner/operator of St. Phillips Bakery. They have a number of up-scale retail locations that produce over 10,000 custom cakes per week during peak season. To improve the customer experience and efficiency of its operations, they wanted to add a cake ordering and kitchen production management system that was to be integrated with a third-party point-of-sale (POS) system. The challenges of this consumer retail environment included:
automating the existing paper-based custom cake ordering and production workflow
integration with existing back office systems
integration with Revel Systems POS
rollout across multiple store locations and ability to scale
demonstrate modern branding goals in iPad application
RETAIL ORDER MANAGEMENT SYSTEM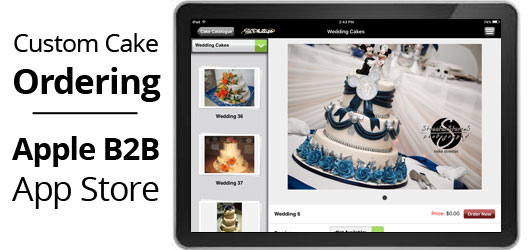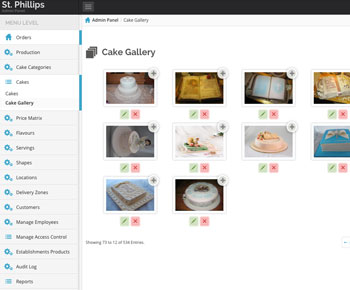 Our target users were extremely non-technical CSR's and bakers. With this in mind, GSI designed and developed a system featuring the following elements:
iPad application – custom cake order assembly. The existing paper process required 15-45 minutes due to the vast number of permutations of each order and details were frequently lost. Our design challenge was two-fold: First, we had to design a workflow that organized and simplified the creation of a custom cake order. Second, the user interface had to match the bold, modern look of their re-designed store brand.
Kitchen production application. Cake orders were being passed through the entire production process on the same piece of paper. In addition to automating the workflow, the kitchen system posed several challenges: 1) inventory management of ingredients 2) UI for non-technical people 3) kitchen environment (ie. dirty hands and flour dust) and 4) a single kitchen produced all custom cake orders for all retail locations.
RETAIL PLATFORM CAPABILITIES
iPAD APPLICATION
Custom Order Composition
centralized DB integration

ID badge secure login (CSR)

on Apple B2B App Store
KITCHEN PRODUCTION
Cloud-based SAAS
99.99% application up-time

unlimited location scalability

touchscreen UI
ADMINISTRATIVE TOOLSET
Management/Reporting
financials

product pricing/inventory

CRM insights
REVEL SYSTEMS
POS Integration
price generation

deposit tracking

order history/tracking
SOLUTION: INTEGRATED SYSTEMS/MULTI-LOCATION
STP's custom cake order and kitchen management system has been in operation since 2014.
Their aggressive expansion strategy and centralized kitchen model is supported by our SAAS model. New store rollout is a simple matter of provisioning iPads and the app is loaded via the iTunes B2B app store.
GSI's cloud-based SAAS kitchen production system schedules and routes all location orders to the primary kitchen.
When the cake is ready for production, the system prints the order out in the primary kitchen and tracks it through to pickup/delivery.
Moving The Business Forward. A critical outcome of this engagement has been the generation of key business data. With the full product catalog and customer data centralized in our cloud-based SAAS system, STP is empowered for expansion. Some new capabilities include:
new store rollout requires iPad only
e-commerce ready website
social media, customer loyalty, online CRM
The centralized data model provides STP with improved financial governance and a real-time view of sales data: complete customer transaction history, historical pricing practices, seasonal product trends as well as many other views.