IMMEDIATE CHALLENGE
Our client required a highly secure e-commerce platform that was to be integrated with major Canadian banking systems. A white-labelled portal engine was needed for their retail partners to facilitate sales of consumer electronic finance products such as pre-paid and virtual credit cards. Some of the technical challenges we were facing included:
integration with proprietary ordering system
integration with bank and its third-party platforms
finance sector PCI compliance
multi-branded iterations of consumer portal
SECURE E-COMMERCE ENGINE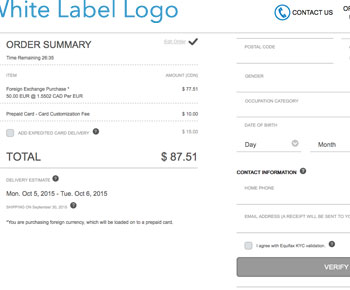 GSI designed and developed the following system elements:
Dynamic Branding Engine and CMS. The CMS allows for the creation/management of an unlimited number of branded system iterations.
E-commerce ordering engine. Allows a user to order a US Dollar, Euro, British Pound or Mexican Peso pre-paid credit card. Live FX quotes are retrieved from a major bank, collects the user's personal and shipping details, validates user identity through Equifax and FinScan, collects payment through Global Payments and finally, places the order to be fulfilled and delivered to a consumer's doorstep.
Consumer account management engine. Allows a user who has received their pre-paid card to securely activate the card, view/edit personal details, view transactions and reload foreign funds.
Administrative toolset. Allows Admin users to view all transactions as well as perform basic actions on the cards: refund, suspend and un-suspend. The interface also allows an admin user to set up a new custom branded version of the system, without having to do any coding.
E-COMMERCE PLATFORM CAPABILITIES
secured e-commerce and provisioning engine

white labelled consumer portal CMS to facilitate multi-branded iterations of the overall system

integration of proprietary publishing platforms
administrative toolset: portal CMS, transaction auditing, all card actions

integration with proprietary card provisioning applications

integration with 3rd party API's: Equifax, Finscan, Global Payments
scalable architecture and 5×9's uptime

bank security compliance: PCI

24x7x365 systems support + training/transition to internal teams
SUCCESS THROUGH PARTNERSHIP
The completed system – launched in the fall of 2015 – is a collection of banking-secured web applications that integrate the end-to-end B2C and B2B workflows.
GSI's consultant teams resolved the business complexities posed by combining banking processes with traditional retail processes as well as our client's own proprietary card ordering processes.
In addition, the technical complexities stemming from the integration of the new system with each of the existing respective platforms and third-party financial systems were also resolved. Customer wait times were particularly challenging as multiple third-party application calls needed to be made both synchronously and asynchronously.
Transition to internal development teams. GSI's client partners benefit from our experience with Total Cost of Ownership (TCO) analyses. In this case, it revealed that they would need to manage and maintain the system internally so we designed it to be easily transitioned to our client's teams.
Operationalizing the System. GSI's teams led the initial system launch as well as the transition training. To ensure successful system stabilization, GSI remained at the helm during the first 90 day period and contributed ad hoc client training so that their internal teams were 100% confident when it was time for GSI to disengage.